Rideonic Trekking 1.0 500Wh US50 cm '23 pink electric bike
Brand:

Rideonic

Article number: RID2302RO550
Model year:
2023
Maximum power assistance:
25 km/h
Engine type:
Act. +
Battery capacity:
500 Wh
Stores
Stock

Available
Gross special offer price:
€2,699
€2,499
The Ebike we created for you!
High quality, affordable price - this is Rideonic, Ebikeshop's first self-designed electric bicycle family . In this bike, we put all the experience of a decade in order to create a family of electric bicycles that meets the trends of the ebike world and the needs of the Hungarian market.
< span style="color: #000000;">
The frame is available in four special matte colors and has a high handlebar, so it is comfortable even in the long run – that is, with the well-dosed electric assistance, you can reduce your daily exercise dose in such a way that you get exactly as tired as you want.
The main advantages of our Rideonic bikes:
We make the excellent price-value ratio possible with our own production, so our customers can get e-bikes at a more affordable price


Immediate availability, as we have enough stock for an entire season in our warehouses

span>
Bicycles are also available in a fleet, so a uniform appearance can be ensured


Designed for the Hungarian market. Rideonic was designed with the maximum consideration of Hungarian customer needs.


Trendy appearance. Aesthetics is also an important aspect of our design; the colors, which are not typical for the ebike world, were chosen in accordance with the trends of the 21st century. In addition, in an almost unique way, our vases have been given a matte finish so that you can feel like a real trendsetter wearing them.


Ergonomics and comfort. In order to enjoy sitting on a bike regularly and for a long time, we chose a raised handlebar for Rideonic trekkings. This way, you don't have to lean forward as much, and riding a bike puts less strain on your waist and forearms.
How to use Rideonic electric bikes:
Rideonic models are located between touring and street machines. The 28″ wheel diameter also holds its own on asphalt or on milder terrain (forest path, bumpy dirt road). It is comfortable and light, so it is also suitable for long-distance trips. The bike is fully equipped (mudguard, luggage rack, support, lighting), thus ensuring the bike's wide usability.
Rideonic motor and battery:
The Bosch Active Line Plus is the 50 Nm version of the manufacturer's third generation. This motorcycle is mainly recommended for urban use or small tours. It is most efficient on flat terrain, but this motorcycle can also be used in hilly areas. This generation is one of Bosch's longest-running families, so we can talk about extremely reliable and mature technology. The motor's resistance is almost zero, so if the battery runs out, you can still ride the bike easily. We paired this great motor with a 500 Wh capacity battery, thanks to which we can reach a range of up to 120 km.
Rideonic display:
The Purion is a display and control unit with a minimalist design. The most necessary information can be obtained with a single movement of the thumb, while holding the steering wheel with both hands. It is perfectly readable, has a backlight, and its anti-glare display enables accurate reading.
General Information

On this page you can find all the instructions for use for the bicycles we sell.

And if you are wondering how many km you can cover under the conditions you use, Bosch range calculator can help you.
Detailed parameters
| | |
| --- | --- |
| Condition | New |
| Manufacturer | Rideonic |
| Model year | 2023 |
| Frame size | 50 cm |
| Frame type | Low |
| How to use | Trekking |
| Maximum power assistance | 25 km/h |
| Engine type | Bosch Active Line Plus |
| Display type | Bosch Purion |
| Battery capacity | 500 Wh |
| Position of battery | Integrated into frame |
| Wheel size | 28 " |
| Power transmission | Chain |
| Suspension | First telescope |
| Brake type | Tektro HD-T285 |
| Brake class | Dial |
| Number of gears | 9 |
| Gear | Shimano Alivio |
| Gear type | Chain shifter |
| Gear operation | Mechanical |
| Engine manufacturer | Bosch |
| Increased load capacity | No |
The image is an illustration only! Due to current spare parts supply problems, the specification of the bike may differ from the spare parts shown in the picture, but in all cases components of the same quality shall be installed. For more information, please do not hesitate to contact our colleagues.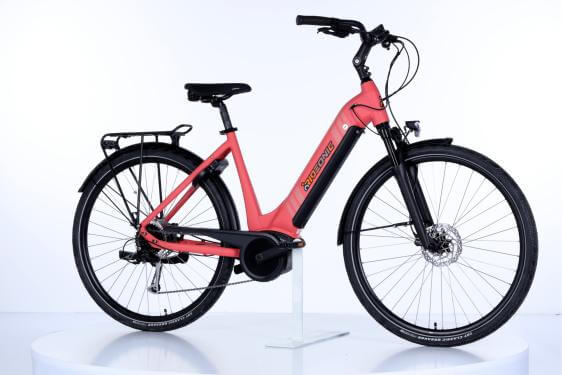 Maximum power assistance
25 km/h